Groove Is In the Heart!- the benefit concert video
Concert Vault LLC, executive producer Craig Larson
Produced & Directed by Jesse Block
2007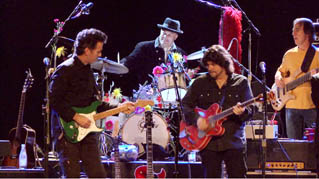 On January 18th, 2007, a group of world class artists performed to support the over 40 year-old Saints and Sinners Foundation, which provides grants to non-profit agencies focused on children. Rolling Stones keyboardist Chuck Leavell & all-star band, The Werewolves, howled to the occasion with a band that featured such luminaries as Norton Buffalo, Narada Michael Walden, and Jimmy Dillon. The Octalouie team was there to document the event as a showcase for Quicktime.com. With a webcast produced by Craig Larson of Concert Vault LLC, directed and edited by Jesse Block, this event was captured for posterity in 16:9 HDTV.