Electric Hot Tuna- Live at the Filmore
Executive Producers: Hot Tuna, Guitar Workshops/ Vestapol
Produced & Directed by Jesse Block
Production period: 1994-1995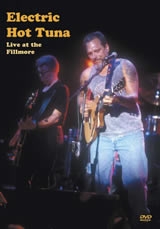 Following up on the previous Sweetwater production with Hot Tuna, the Octalouie team decided to create another production with their friends Hot Tuna as they returned for a special homecoming at the Filmore Auditorium in San Francisco. Just as Chuck Berry, Elvis Presley. Little Richard, and countless others put the spin on blues music to create rock and roll, Hot Tuna returned the favor, going electric for this very special show. Like the Sweetwater program, this program is also available on DVD.